Home
> Medium Roasting Set
Recipes you may find handy...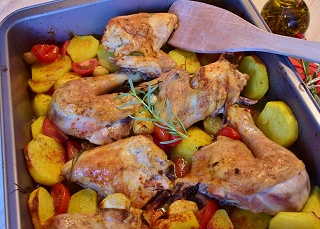 Chicken & New Potato Traybake
Medium Roasting Set
When it comes to making the perfect Sunday roast, you need the perfect cookware to help you out! So if your existing bakeware could do with replacing, you have come to the right place!
This fantastic roasting set has a high quality enamel finish, so it will withstand everything that you decide to use it for! The enamel cookware set comprises of 3 main pieces of bakeware including an enamel baking tray for your roast vegetables, an enamel roasting tin for the roast meat and a medium roasting rack to help the meat cool before you carve it.
This high quality cookware also comes with a simply outstanding 10 year guarantee, and is direct heat safe so you can make your gravy in the roasting tin with all the delicious juices from the meat!






Product Specifications
· Medium roasting set
· Comprises of 3 items
· 1 enamel baking tray (36cm long, 29cm wide and 2cm deep)
· 1 medium enamel roasting tin (33cm long, 27cm wide, 5cm deep)
· 1 medium roasting rack (35cm long, 17.5cm wide and 4cm deep)
· High quality enamel finish
· 10 year guarantee, oven safe, metal utensil safe, freezer safe, dishwasher safe, direct heat safe
Alternative British Bakeware Products