Home
> Large Enamel Roasting Tin
Recipes you may find handy...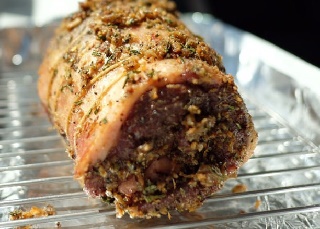 Roast Leg of Lamb Recipe
Large Enamel Roasting Tin
Here at British Bakeware, we believe in good old fashioned hearty meals. There is nothing better than gathering your family around the table on a Sunday for a traditional British roast dinner. This is where this vitreous enamel roasting tin comes in!
This large enamel roasting tin comes with a large roasting rack, making it even more perfect for your Sunday roast! The vitreous enamel roasting tin is 37cm long, 32cm wide and 6cm, whereas the roasting rack is 33cm long, 27cm wide and 5cm deep. So it will be more than big enough to hold your delicious piece of beef, chicken, lamb or nut roast on a Sunday lunch time!
The roasting tin comes with a 10 year guarantee thanks to its fantastic high quality vitreous enamel finish and as a result, it is also direct heat and metal utensil safe.





Product Specifications
· High quality large enamel roasting tin
· Large sized tin
· Comes with a large wire roasting rack
· Vitreous enamel finish
· Roasting tin specifications: 37cm long; 32cm wide; 6cm deep
· Roasting rack specifications: 33cm long; 27cm wide; 5cm deep
· British manufactured bakeware
· 10 year guarantee
· Direct heat safe
· Oven safe
· Metal utensil safe
· Dishwasher safe
Alternative British Bakeware Products