Home
> 24cm Bundt Cake Tin
Recipes you may find handy...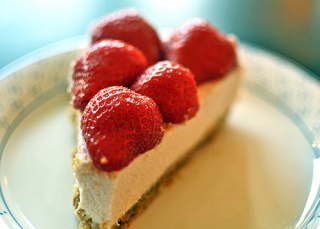 Strawberry Cheesecake
24cm Bundt Cake Tin
If you are looking to add a bundt cake pan to your already impressive bakeware collection, then this fantastic bundt cake tin will certainly do the trick.
Unlike most of the cake tins that we stock, this 24cm bundt cake tin has a double base, meaning you have the option of using either the standard base or changing it to use the other base. The metal catch on the side releases the bottom of the tin, allowing you to easily remove your freshly baked cake with no damage.
The double non-stick finish this 24cm bundt cake tin has makes it extremely durable and this is one reason it has a 5 year guarantee, ensuring that you will be baking delicious homemade bundt cakes for many years to come!
So whether you are making a chocolate cake or a traditional bundt cake, this 24cm bundt cake tin is the perfect piece of bakeware for you.




Please note: This product has been discontinued and is no longer available
Product Specifications
· Bundt cake tin
· Double base
· Metal catch on side to release the base of the tin
· 24cm diameter (9 inches)
· High quality bakeware
· British manufactured
· Double non-stick finish
· 5 year guarantee
· Dishwasher, Freezer and Oven safe
· Perfect for making bundt cakes!
Alternative British Bakeware Products